MIGRAINE ICE WRAP - Reusable strap-on ice wrap. Effective, non-toxic alternative to medications like aspirin. When worn as a head band, it provides soothing relief from migraine headaches. It may also be worn around the jaw to help alleviate the pain of TMJ. ONLY $21.00: compare with others at $30!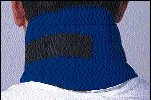 CERVICAL ICE WRAP - Lightweight and perfect for the amateur and professional athlete, as well as the medical professional. Made of non-toxic, water based material, they are a fast convenient way to apply cold therapy. Suitable for neck-related sprains and stiffness. ONLY $29.00: compare with others at $30!
ALL PURPOSE ICE WRAP - Large all-purpose ice wrap. Use on upper and lower back, shoulder, knee, and thigh. Great for arthritis, bursitis, tendinitis and inflammatory conditions. Ideal for home and sport injuries. ONLY $32.00: compare with others at $45!